last updated December 22, 2003

Hi everyone! Whether you could be with us in person or in spirit, we wish to share with you some of the fun in photo form.
Enjoy these nine collections of scenes from our wedding day.
Love, Marisa & Dylan
| | |
| --- | --- |
| photos 1 | the dress!, mom, grandma & grandpa, dad |
| photos 2 | dancing!, grandma & grandpa, brad & barbara |
| photos 3 | szem's, family shots, friends from europe, patty |
| photos 4 | ginny & jack, our vows, jeff & katherine, karen & bob |
| photos 5 | black & white, family, roger singing |
| photos 6 | the band, carly, we did it!, stafford's |
| photos 7 | ferco & the ring, ginny & dylan, sue & ray, cake cutting |
| photos 8 | u.r.i. reunion women, in my arms, silly, patty & travis |
| photos 9 | we did eat, bridal party, silly, the cake! |
---
(Below is our welcome page, Pre-Wedding!)
Welcome! As we approach one of the biggest days in our lives, we're excited about your participation. Whether sending warm sentiments wishing us well, or coming to the wedding, it's great to have you in our lives.
We want our wedding to be an expression of love, and also a celebration of our amazing community of family and friends.
We are very fortunate to have incredible parents, grandparents, siblings, family and friends! This will be a great day to honor you for the difference you have made to us.
Thank you for being in our lives!
Marisa and Dylan are getting married!
October 10th, 2003, starting at 4:00pm
at the Glen Manor House, Portsmouth, Rhode Island

Father Randy Chew and Reverend Harold Jackson Stafford, Jr.
will co-officiate our wedding.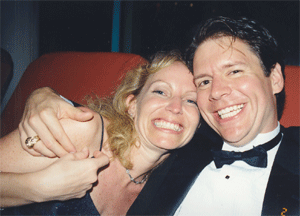 Marisa's Cell 310-466-3091
Dylan's Cell 310-383-1620